3 Ноябрь 2014
|
Risbey Peter
The Women's Voluntary Service in Britain
The WVS is one of the best examples of the successful mobilisation of the energies and abilities of women in the service of the Nation.
The Start – 1938
As war threatened, Home Defence was at the forefront of people's minds. It was becoming obvious many attacks would come from the air and, in 1938, the Air Raid Precautions Department appealed for one million volunteers. The response gave the Home Secretary, Sir Samuel Hoare, the idea of setting up a women's organisation to help with the task. On 16th May 1938 the Women's Voluntary Service for Air Raid Precautions was founded. The Dowager Marchioness Lady Reading was appointed Chairman and the Queen and Queen Mary, The Queen Mother became joint patrons. The aim was that every woman should be given the opportunity to contribute to the defence of the country against enemy air attack.
The War Years
When war was declared on 3rd September, 1939, the WVS had 165 000 members drawn from groups unable to 'join up' or do essential war work. These were the elderly, the young, the housebound, or those with dependants. Men were not excluded and occasionally helped with jobs such as driving which not many women could do then.
The work quickly diversified and the organisation soon changed its name to the WVS for Civil Defence. The work of the WVS was organised in close cooperation with Government Departments and Local Authorities. One of its first tasks was to evacuate one and a half million children from the big cities to the country. In London children under five went to one of three WVS receiving nurseries. Every child had its head washed and was given any clothes he or she lacked, and then personally escorted in a train or car by a WVS member to country nurseries. In two years 30 000 little children were evacuated. One WVS member travelled 126 490 miles in three years and escorted 2 526 children under five. Members also staffed hostels, clubs, sick bays and communal feeding centres. They opened clubs for mothers, provided transport for hospital patients and undertook welfare work for the troops.
In May 1940, Germany invaded the Low Countries and the war, as far as Great Britain was concerned, really began. A total of 22 250 refugees of 40 nationalities poured in. As the first arrived at Alexandra Palace, WVS members provided food and clothing. The free world sent millions of garments during the war. In addition, clothing was bought on behalf of the Lord Mayor's Air Raid Distress Fund. It was the job of the WVS to distribute this clothing to those whose homes had been bombed out. Clothing depots were established throughout the country and every garment had to be unpacked, sorted and stored. The first mobile canteen was built and several WVS centres were asked to garnish camouflage nets. Soon thousands of women were spending the odd half hour weaving scrim on to a net backing.
By 1941 air raids were a reality in Swansea, Liverpool, Cardiff, London and other major cities. WVS organised rest centres for those left homeless after a raid. Countless thousands of meals were served, washing facilities organised and clothing issued. As well as Civil Defence duties, WVS undertook unexpected jobs such as distributing 45 million ration books, cycling into harvest fields with pork pies, and darning the socks of the British Army. At the end of 1941, the WVS enrolled its millionth member.
Thrift became an absolute necessity and by 1942 a big economy drive was under way. Make-Do-and-Mend became a way of life: paper, string and food was hoarded and WVS members knitted socks from old sweaters. Members swept up nuts and bolts from aircraft factory floors and sorted them for re-use. As Britain greeted the American troops, WVS members learned to make coffee and ran 200 British Welcome Clubs which provided hospitality for allied troops, organising dances and sight-seeing tours. Members also worked in the Compassionate Leave Camps helping servicemen with domestic problems.
By 1943 WVS members were staffing Incident Inquiry Points set up in the bombed localities to give information about the dead and injured. They often had to break bad news to the bereaved, even having to escort them to the mortuary to identify the dead. Members also took on lighter tasks and collected 56 million books for the troops, sorted the contents of 6 000 kitbags left by US Forces departing for Africa and distributed fruit juices.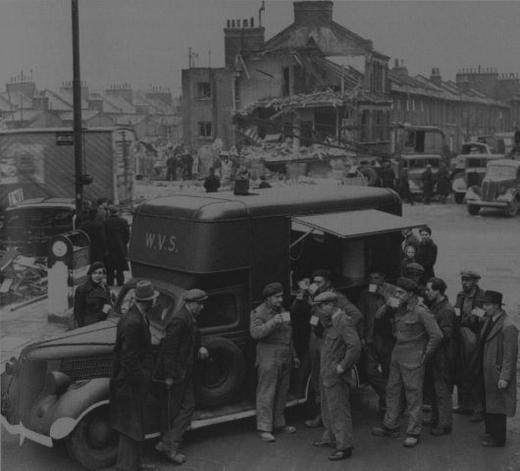 In 1944 raids continued on London and East Anglia. Mobile canteens were set up to help with the evacuation of affected areas. In September Germany was invaded and the WVS was asked to take on Services Welfare there. Before the end of the year the WVS had launched two campaigns — training in household repair work; and encouraging thrift in fuel consumption. In December 2 700 unaccompanied children and 900 mothers were escorted back from Wales to the Home Counties. The Household Gifts Scheme was started with members collecting and distributing gifts of furniture to bombed-out families. Many thousands had lost all their personal possessions and could not afford to replace them. Lorry loads of furniture arrived from all over the country as well as from overseas including rugs from India, cotton cloths from Nigeria and blankets from Canada. In eighteen months over 110 000 families were helped.
On 8th May 1945 the war in Europe was over but WVS members were sent to South East Asia Command for troop welfare work. As the troops pushed through Malaya to French Indo-China, so the WVS went too. On August 15th the war against Japan was also concluded.
The members of the WVS had coped with unimaginable difficulties but they had not been constrained by regimentation and had a reputation for never saying no. Members had received many awards for gallantry, including two British Empire Medals, five George Medals and seventy-eight Empire Awards. Sadly, 241 members had died whilst on duty.
The Many Roles of the WVS
The range of the work of the WVS quickly expanded beyond the basics of Air Raid Precautions and their outstanding contribution included:
WVS WAR-TIME WORK (1939-1945)
MINISTRY OF HOME SECURITY AND HOME OFFICE
Recruitment of women for ARP and Local Authority Services
Co-operation with Wardens and Street Organisation
Organisation of lectures and courses for women in First Aid, Anti-gas and Fire fighting
Basic Training for all WVS members, organisation of Housewives Service
Manning of Incident Inquiry Points and training of personnel
Inspection and repair of gas masks and fitting of baby helmets
Co-operation in Invasion Defence Scheme
Staffing of ARP Canteens
Feeding of Civil Defence workers after raids
Volunteer Car Pool
Regional reinforcements during the flying-bomb and rocket period
Supplementing Wardens Service with part-time volunteers
Assistance in staffing NFS and Police Canteens
Assisting Police in escort and welfare arrangements when rounding up women aliens.
Making and sewing sandbags
MINISTRY OF HEALTH
Evacuation (billeting, escorting, sick bays, communal feeding centres, hostels, social centres)
Assisting in plans for mass evacuation and coastal evacuation
Organisation of Ministry of Health Scheme for evacuation of selected children under-five from London
War nurseries for under-fives
Distribution of clothing to air raid victims, evacuees and foreign refugees, helping with Local Authority Schemes for evacuees
Staffing of Rest Centres, provision of emergency equipment, training and maintainance of mobile rest-centre teams
Staffing of Administrative Centres and Information Services
Reception and welfare of foreign refugees, evacuees from Gibraltar, Channel Islands, Malta and Far East
Keeping of Central Register of refugees from Holland, Belgium and France
Assistance in Blood Transfusion Service
Domestic Help in Hospitals, Recruiting of Nursing Auxiliaries
Regional toy making Schemes
Welfare work in public air raid shelters and canteens
Recruitment of women for water decontamination
Provision of gas cleansing facilities
Staffing and planning of Aid-Houses to supplement Casualty Services
Emergency billeting Services
Organisation of Home Help Schemes for Local Authorities
Care of aged and infirm, and evacuation after flying-bomb period
Re-homing Scheme which assisted 100 000 families with furniture, blankets and other gifts after bombing
ADMIRALTY
Vegetable service for minesweepers, etc.
Comforts for official depots
Canteens, Hostels and Clubs Hospitality for WRNS
AIR MINISTRY
Hospitality for RAF and WAAF personnel
Hostels for WAAF
Canteens
Arranging for classes on releasing men from crashed aircraft
Knitted comforts
ASSISTANCE BOARD
Immediate clothing assistance to air raid victims
Welfare for staffs of Mobile Office units and training volunteers for emergency work
BOARD OF TRADE
Collection and distribution of over 12 000 000 pounds of gift clothing.
Children's Clothing and Shoe Exchanges
Information on clothes rationing scheme
Information on Utility Furniture
Domestic Front and Make-do and Mend Campaigns and Exhibitions
DOMINIONS OFFICE AND COLONIAL OFFICE
Gifts from overseas
Hospitality scheme, e.g. Newfoundlanders
Clothing and relief for civilian repatriates
Welfare for Allied troops and their POWs
Hospitality to visitors
Clothing for Malta
MINISTRY OF AGRICULTURE AND FISHERIES
Interviewing recruits, billeting and general welfare for Land Army
Co-operation with County War Agriculture Committees, for the recruitment of part-time land workers
Feeding of agricultural workers
Assistance in Dig for Victory campaign
Welfare of girls in Timber Corps
MINISTRY OF AIRCRAFT PRODUCTION
Feeding of workers on constructional sites
Sorting rivets for aircraft factories
Collection of aluminium
MINISTRY OF EDUCATION
Helping to staff school canteens and transport hot meals
Co-operation with Girls Training Corps
Helping with Domestic Front Campaign
Staffing Social and Play Centres
School Volunteer Scheme, providing Escorts
MINISTRY OF FOOD
Community Feeding Centres and British Restaurants-helping in staffing and running
Pie Schemes in rural areas
Emergency Feeding Centres
Queen's Messenger Convoys
Help with campaign for building field kitchens
Distribution of food gifts from overseas
Distribution of Welfare Foods
Food Advice and Food Leader Scheme
Assistance in issuing of ration books
Simple instruction in cooking and nutrition
Industrial feeding for outlying workers, etc.
Mobile Canteens for all types of feeding schemes
Staffing Ministry of Food Emergency Feeding Units
Collection of Rosehips, Herbs
MINISTRY OF INFORMATION
Hospitality for American Forces in Great Britain, Information Bureaux, Hospitality Centres, British Welcome Clubs
Tours for overseas visitors
Distribution of leaflets, posters, etc.
Organisation of meetings for MOI speakers and film shows
Co-operation over the production of films and publications
Providing drivers and announcers for MOI cars in emergency
MINISTRY OF LABOUR AND NATIONAL SERVICE
Industrial billeting surveys
Reception and hospitality schemes for transferred workers
Help with 'Holidays at Home' campaign
Out-work centres
Publicity for recruitment of part-time workers
War-time nurseries for children of war workers
Mobile canteen services for dockers or workers on factory building sites
Emergency Home Helps
Recruiting agricultural workers, fruit pickers, etc.
Co-operation with ATC, JTC and other Youth Organisations
MINISTRY OF SUPPLY
Salvage, publicity, provision of stewards, canvassing and collection
The 'Cog' Scheme
Garnishing of camouflage nets
Book drives and mending, sorting and disposal of books to Services, Hospitals and Salvage
Collection of cotton reels
Feeding workers on operation Mulberry
Knitting garments for children in liberated Europe
MINISTRY OF WAR TRANSPORT
Feeding dockers from mobile canteens (temporary schemes)
Assistance in clothing shipwrecked merchant seamen
MINISTRY OF WORKS
Emergency feeding of constructional workers
Housing Surveys and education
WAR OFFICE
Canteens, clubs and hostels
Comforts, Mending Schemes
Libraries for outlying units
Short leave hospitality for personnel, leave petrol vouchers
General welfare work for Service men and women
Home Guard co-operation with feeding, transport, and communications
Co-operation with Red Cross, meeting convoys, occupational therapy
Hospital Libraries
Care of relatives of wounded and dangerously sick.
Welfare of returned POWS; reception, transit, sewing on ribbons, and visiting for Civil Resettlement Units
Information Bureaux (with NAAFI) and at Railway Stations
Welfare work in NAAFI overseas leave clubs
Publicity for War Dogs scheme
'Say it with flowers' (for the Forces)
Provision of wedding dresses for Women's Services
Assisting civilian population in removal and resettlement in 'Battle' areas
Also read: British Women in War
Source:  http://myweb.tiscali.co.uk